How does your lack of money show up when you are networking?
We have all experiences and tales to tell of when we have been networking and it has been clear that the person we have been talking to is just not interested in us, but have you ever considered that it might be because they are operating from a point of Scarcity or lack of money in their mind.  Basically, the mind works in two ways from Scarcity or Abundance.  If the person who is networking is worried about money or has negative beliefs or programming about money, this will show up in their behaviour when networking. The person will be so focused on getting a client or work in to pay the bills, that they have this in the forefront of their mind when talking to you.
Signs of a Scarcity Mindset when networking
A business card thrust in your face without being asked
The person may talk at you rather than with you
The person only talks about themselves and what they do
The person is clearly not listening to you and paying attention to what you say
The person always says what they can do for you and don't understand that when networking you don't sell directly to the person you are networking with
Everytime you meet the person networking, they can't even remember your name and you see them every week!
The person is hunting the room to get what they can rather than being helpful to others
They are worried about the competition in the room eg. there are three therapists in the room, so it will be harder to get work or leads
When I started my business I did some networking training and they said, 'it's not about you, it is about the other person' but when I became stressed about money, it was like that went out the window! I was so anxious to get money in to pay my mortgage due to personal circumstances going on, it was like my scarcity head had taken over!
I now live from a place of Abundance (not from a lack of money) in my mind and I network very differently. It's not saying that I don't have bills to pay, of course I do, but I act differently in life. I have an abundant heart and mind and I know that there is enough work out there for me and everyone and if I help others and give a clear message about what I do and who my ideal client is, the work will come to me.
How to network from a more abundant heart and mind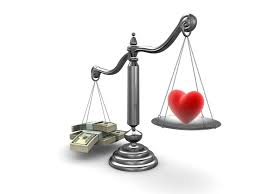 Reading 'The Go Giver' by Bob Burg and David Alan Mann transformed how I act when networking. I now go networking with an abundant heart and mind.  I am actively looking for how I can help others and I try to learn as much as I can about a person. If they need help with something e.g. they need feedback on their new web site, or they need their event advertised in some way, I will try to look for ways in how I can do this. I will always go out of my way to send items of interest to that person or to tell them about events which may interest or help them. If I can link a person with another, I will do this after a network event.  I share books that I have read and I always try to make a new person in the room feel comfortable and share tips with them if they appear nervous.  I give openly without the worry of what I am getting back in return. Yes, I leave every network I attend with a list of things to do, but I know that by helping these people, this kindness will come back to me in the future. It may not be now but I know that I am building rapport with these people and showing them what sort of a person I am. My kindness is remembered and often not forgotten.  It is important to be consistent though, so if you promise something, you must fulfil what you have said you will do.  This builds trust. As I build relationships with people over time, I start to refer work to them and I send them useful information as it becomes available to me e.g. information about another network they may be interested in, a book title, a blog post, a facebook group to join.. the list is endless. The more you serve others, the more abundance will be returned to you provided you are clear about what services you are offering.  So my advice to you, is for you to move to having an abundant heart soon if you are not doing these things, as it feels so much happier working from this point of view.  Kindness really is good for you……
Remember also that these hints and tips work online too!
Want to learn more?
To learn more about how to be abundant in life and to change your attitude to money and the stresses in life, you may wish to use the Money Mindset workbook 'How to manifest more money into your life' or come on one of my money mindset workshops/courses. If you are in debt, don't worry. One of the workshops is free! I also teach meditation and Reiki on a 1-1 basis. Of course, if you are feeling stressed and need some spiritual guidance, I am more than happy to work with you individually to help you understand the issues you have now and to help you move forward with ease in your business. All information can be found at www.insightfulminds.co.uk or you can ring me on 07815 904848 or email liz@insightfulminds.co.uk #money #moneymindsetworkshops #themoneyattractionangel