If you are exhausted, frustrated and feeling torn between your life and that of supporting your elderly parent due to guilt, then there is help available.  An online caring for elderly parents support group.
Join the Facebook Group for additional free support and advice from other people who are struggling to juggle their life as well as caring for their parents or other elderly family members. https://www.facebook.com/groups/caringforelderlyparentssupportgroup
Who is this service for?
Anyone who is feeling isolated and struggling with caring for their elderly parent(s)
Someone who has been recently bereaved or has a parent who is dying
Carers seeking to learn empowerment methods to help them feel more in control, less guilty and powerless over their interactions with their parents
How does the support group work?
Ask your questions at any time – day or night and you will gain support from other members as it is an international group
Read everyone's interactions and offer guidance/support to others as appropriate. You will find that you are not alone!
Benefit from the stress reduction tools shared in the group and if you would like to train in them or to work with me privately to support you to overcome your stress, you can get in touch with me.
For more information or to work with Liz privately, email Liz at liz@insightfulminds.co.uk
Sign Up to be an Advertiser in the Group
Caring for another can drain your financial resources as you have given up work to care for a loved one. It can be a very lonely journey. Often carers find it challenging to find businesses that can support them with their caring needs or resources which will keep them healthy. To raise awareness of businesses which can support the caring journey, an advertising opportunity is available.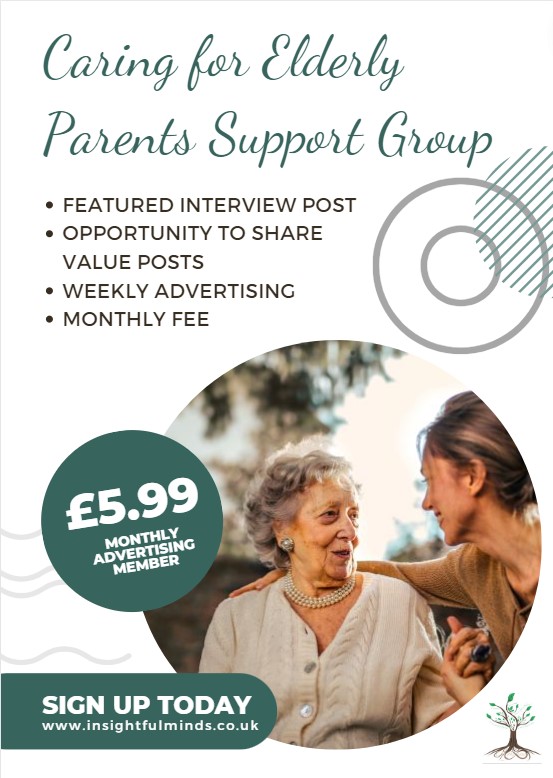 Sign up to become an advertising member by going to: https://ko-fi.com/lizalmond
For just £5.99, you can sign up to be a monthly advertising member (one month notice). As an advertising member, you will benefit from:
A featured interview post about your business and what you could offer either carers or the cared for
An opportunity to share value posts on a weekly basis
A monthly small fee to spread the costs (one months cancellation notice)
Ability to advertise on a monthly basis about your business