Download your free Menopausal Symptoms Help Guide
Of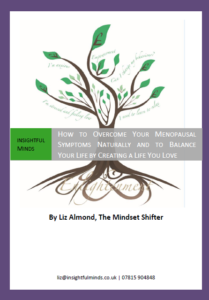 ten the medical approach to the menopause is medicate it by individuals being given anti depressants and HRT.  Lots of individuals (men & women) are struggling with depression, anxiety and other symptoms and are not being informed about different therapies which will give them relief from their suffering.  Some techniques are not on the NHS which does mean you would have to fund your treatment.
Having worked with numerous menopausal clients, there is a different approach you can take if you are willing to explore yourself and become more self aware,  You need to look at what you are not happy about and how you are going to change things for the better.  Enlightenment and Empowerment are the key to your success.  Go within, understand your spiritual journey and release negative energy and see just how magical your life can be instead.
Download my free guide and if you would like to know more about how I can help you overcome your symptoms, then book in for a free clarity call.  liz@insightfulminds.co.uk or ring on 07815 904848.
Click on the link below.  You will not be added to any mailing list!!! If you want to be added though, please ask.
How to Overcome Your Menopausal Symptoms Naturally and to Balance Your Life by Creating a Life You Love