The Balance Procedure – Are you feeling off kilter and out of balance in your life? Do you feel like you are on an emotional rollercoaster and just want your life to go your way for once, then learn a fast and simple method to keep yourself in balance and to feel calmer and happier!
The different stages of the Balance Procedure training. TBP training (Level 1) can also be combined with learning Reiki Level 1 – The Relax Retreat. Ask Liz at liz@insightfulminds.co.uk if you would like more information.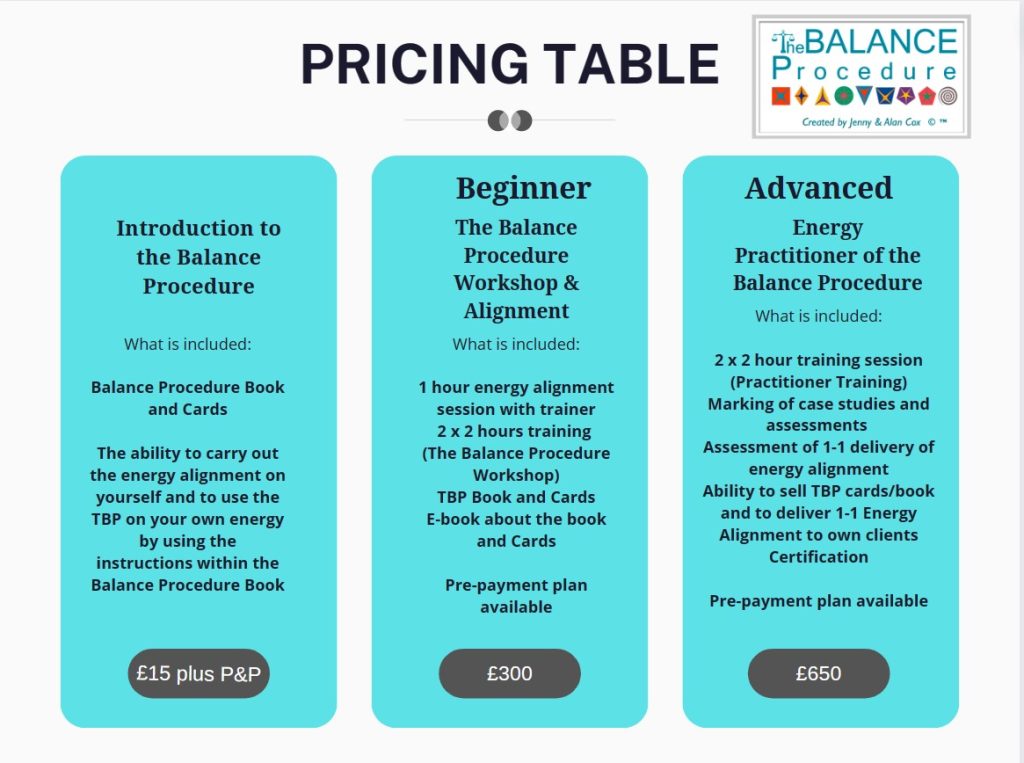 If you are feeling stuck, procrastinating and feeling anxious in anyway and not getting the results you want from life then your life is showing you that your energy is not in flow and therefore not in alignment as you create your own reality. Your hidden trauma from the past is still getting in your way and stopping you. The Balance Procedure will support you (if applied regularly) to get your life on track and to help you to fulfill your full potential. You may also have repeating self sabotaging patterns which are causing you to feel unwell and unhappy, and the Balance Procedure can help with that too!
Continual Professional Development
– Balancing with Belief Workshop- Using the Balance Procedure to shift limiting beliefs (can be completed by novices), The Inside Out D.I.E.T. Weight Loss course – The Inside Out D.I.E.T. (insightfulminds.co.uk)
If you have questions or you would like a taster of the Balance Procedure, then book a taster session with Liz where you can try out one card with Liz and ask any questions you may have. The shift of energy from the card will help you see the power of the Balance Procedure. If you would like to book a 1-1 session with Liz or to find out about course dates or have any other questions, please email Liz at liz@insightfulminds.co.uk.
The benefits of being in Balance are:
Reduces stress
Improves general health and well being
Improves your mental state of mind
Increases in your confidence
Improves your mood
Increases your body's ability to heal itself
Helps you to reach your full potential
Whilst The Balance Procedure is an experiential tool, the results it achieves could be aligned with Heart Math research that if we are in coherence with our energy (in alignment), we will have a more balanced life. Watch the video for more insights into how your energy affects you and others when unbalanced. Go to www.heartmath.org for more information. Credit for the video is to Heart Math.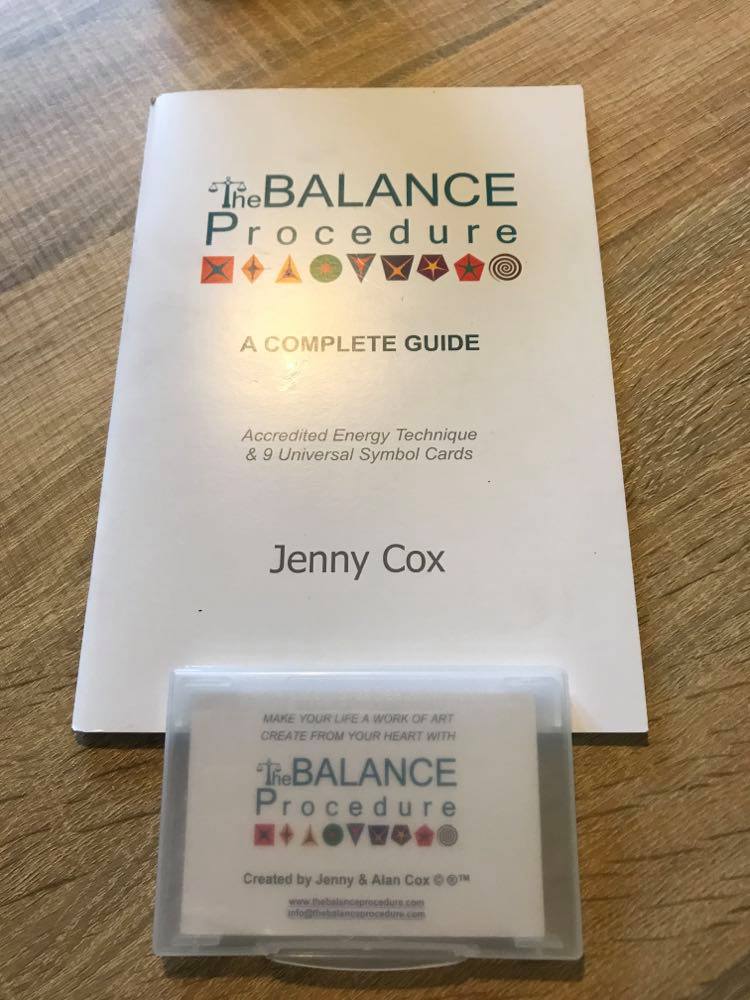 The Balance Procedure activates the Language of the Universe with nine symbol cards each representing a geometric symbol, affirmation, colour, number, zodiac, gemstone, element, planet, chakra, and physical aspect and how when all is Balanced, it is the key to the unconscious mind. TBP is an energy technique that does not require an understanding of theory or precise disciplines but is learnt through practice.
It is an energy technique that does not require an understanding of theory or precise disciplines but is learnt through practice. Knowing how it works is not as important as doing it. Rather than using the rational, intellectual level of consciousness, it requires the development of flexibility and expansion of consciousness. It is not the procedure itself that bring about the results, they are merely catalysts, it is the life force working inside each person that brings about the transformation.
The nine outcomes you would apply the cards on are:
Book in for an energy alignment and training with Liz. Contact her at: liz@insightfulminds.co.uk
Testimonials
I can't recommend it enough. Simply life changing………. Debbie Green

I'm all for natural remedies and therapies and found Liz's guidance on The Balance Procedure to be a valuable tool in my arsenal. It's quick, simple to do and I'm so glad not to have just purchased the book and cards and gone solo. Liz was also very accommodating for my hearing difficulties. Highly recommended. ………..Richard Hiatt

Thanks again for the very inspiring training. I really feel like The Balance Procedure has brought all my therapies together. I found your training to be very professional and second to none. The whole journey has been truly enjoyable, enlightening and powerful experience………. Cheryl Arment
Thank you so very much for sharing your wisdom and your skills with us Liz. I feel less intimidated by life that I did before I engaged with the Balance Procedure. Thank you ……. Glynnis Wisbey
Definitely do this course with Liz. It is fantastic. I use it on my dog too who was abused. For me it has turned my life around. Marie Louise Connor
I've just completed level one of The Balance Procedure and enjoyed every moment. Liz is such a great teacher and I already know that with daily practice that takes minimal time, this simple procedure will enhance mine and my family's lives. It's fascinating and I'd recommend anyone to study The Balance Procedure with Liz. J Cates Accountancy
Having trained with Liz in The Balance Procedure in both levels I and II and then completing my trainer training, I realised it was the missing key in my personal life and business. I have always had great success in manifesting abundance, but this technique has kept me in the highest vibration and I have truly stepped into consistent ease and flow and my abundance has magnified! My business has gone from strength to strength. I cannot recommend these courses highly enough. They are simple and so inexpensive. Thank you Liz for introducing this totally fantastic energy technique to me. Colleen Young, Practice Owner & Wellbeing & Energy Specialist

I recently trained with Liz as a Balance Procedure trainer. She was really supportive and spent time and energy looking closely at my work in this area. She had a good eye for detail and encouraged my efforts in writing the case studies and necessary paperwork. These reflections gave me more insights into how I could improve my understanding of the Balance Procedure and this in turn would help future clients. I can highly recommend her as a trainer. The Whatsapp group that was formed at the time, meant I could also talk to people on this learning journey together. This allowed me to fine tune my thinking and performance. The training was enjoyable and a practice I find really useful for myself and clients . I can't recommend Liz enough! Great training! Chrissy Trybula, Coach and TBP Practitioner
Training
Book now for:
The Balance Procedure Energy Alignment and Workshop via zoom: 4 hours total £300
Practitioner training: 4 hours total plus 4 case studies £650 inc certification fee plus each of your case studies will need a book and card set each.
Courses are delivered globally via Zoom to individuals and groups. New course dates/times are being added all the time. Email liz@insightfulminds.co.uk if you require dates and more information.
To book email Liz direct at liz@insightfulminds.co.uk to check availability and to arrange an invoice to be sent to you. I will need your home address so that I may post the cards/book to you for your training session. If you are going to be joining a session and there isn't time to get the cards/book posted or you are training outside of the UK, then please have a chat with me before you book.
Practitioner Training – There is a period of time between Session 1 and 2 to allow you to work on your case studies, and physical and theory assessments. Before Session 2, you will send your case studies to Liz to be assessed and you will receive feedback at Session 2 to ensure your case studies are on track for sending in for certification. They will be marked by Liz and then sent on to the Balance Procedure for certification.
The aim of having a period in time between the sessions is for you to focus completing and writing up your case studies, therefore after Session 2, you would tweak your case studies based on advice given and then will be ready to send your case studies and assessment quizzes to Liz for final assessment. When you have passed, Liz will send your work onto the Balance Procedure. You will have an assessment call with Alan Cox – the creator of the Balance Procedure. You will then be an Energy Practitioner of the Balance Procedure. You will need 4 sets of books and cards to complete your case studies which cost £15 each plus p&p.
If the dates don't work for you, please get in touch as new dates are being added all the time. Email liz@insightfulminds.co.uk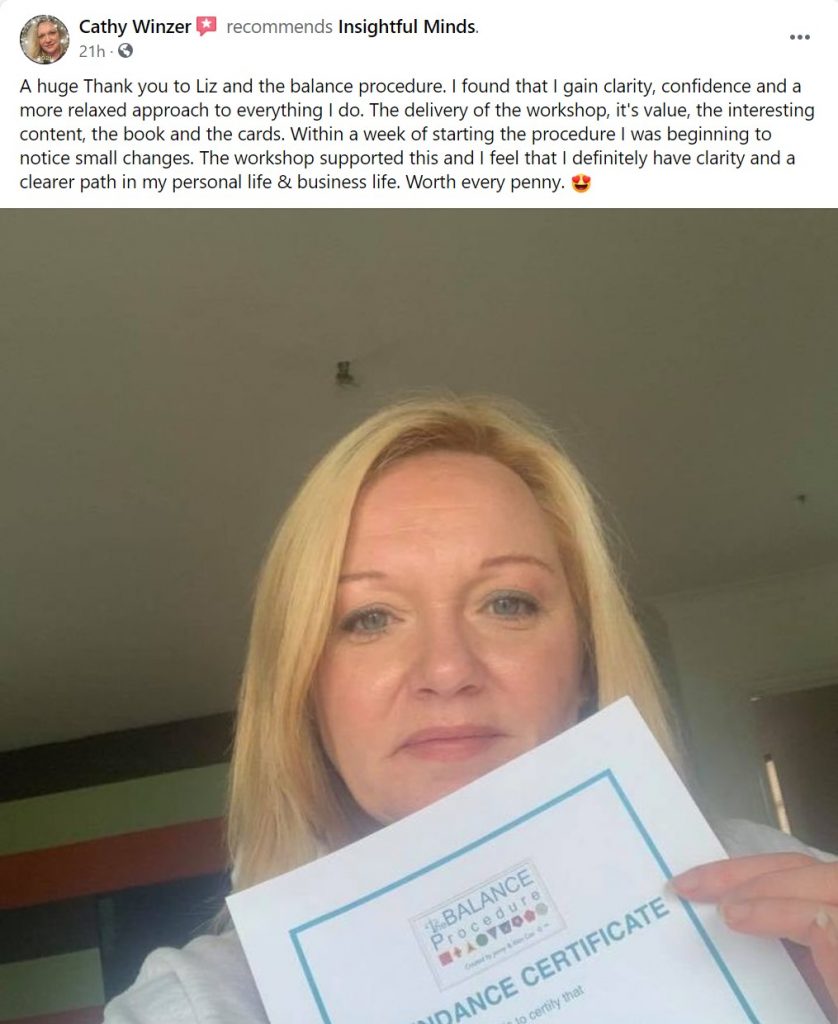 TBP is accredited by the Federation of Holistic Therapists (FHT) approved by Energy Therapy World Wide, The Complementary Therapists Association (CThA), and Holistic Services these are the largest insurance company's in the UK representing multi-disciplined complementary therapists.
There are 3 levels to the Balance Procedure Training
The Balance Procedure Workshop (used to be called Level 1) to use personally on yourself, family, friends and animals
2. Practitioner (used to be called Level 2) allows you to work with clients professionally and to gain insurance.
3. Trainer (delivered by Alan Cox) (currently on hold)
What is included in the training?
The Balance Procedure Workshop
ACCREDITED The Balance Procedure Workshop Virtual live workshop (2 x 2 hour Zoom Sessions)
A copy of The Balance Procedure Book and a set of symbol cards
The Balance Procedure E-book which is a complete guide explaining how the technique works alongside your energy and how you create your life
5 CPD points for completion of the training
Practitioner
ACCREDITED Practitioner Virtual live workshop (2 x 2 hour Zoom Sessions)
Mentoring to complete 4 case studies of the Balance Procedure with your own clients
Assessment & Certification for Practitioner including review of all case studies and feedback
1-1 session with Alan Cox
5 CPD points for completion of the training
Expected Outcomes of the Workshops
The Balance Procedure Workshop
Identify personal triggers that throw you off BALANCE
Ability to explain the true power of thoughts and imagination
Identify the emotional scale and recognise the power of emotions and why we have them
Connect your experiences with Law of Attraction to create your day
Activate the Language of the Universe with TBP symbol cards
Understand the energy of each card which represents a geometric symbol, affirmation, colour, number, zodiac, gemstone, element, planet, chakra, and physical aspect and when all is in BALANCE, you have the key to the unconscious mind
Practitioner
Confidence in explaining the Balance Procedure to others having reviewed the technique and technical knowledge
Carry out practical energy balancing sessions with ease on others. Another paid for service to add to your current services
Accredited practitioner who may offer the Balance Procedure as a technique to others as part of their own programme
Ability to buy books and symbol cards at wholesale prices and sell on to own clients at a profit
Business support to grow your client base
How is the training delivered?
Mainly via Zoom unless personally agreed with Liz. The Zoom link will be sent to you prior to the training. If you experience any difficulties in getting onto Zoom, this is your responsibility. Do however message Liz on 07815 904848 if you experience any challenges in getting on as she will want to try to help you get online.
If you book within a week of the first session, there is a chance that your cards and book won't arrive in time for the training. Don't worry. You will learn more about surrogating which is where you don't physically need the cards. You can still attend training.
Cost of the Training & Alignment
£300 for the Balance Procedure Workshop (4 hours – group training) plus energy alignment session (1 hour 1-1 with Liz) You also get a set of cards/book and an ebook about TBP.
£650 for Practitioner including certification and assessment. Prerequisite to attend – The Balance Procedure Workshop certificate of attendance and evidence that you have had a 1-1 energy balancing session.
Course dates are always being scheduled, so if you don't see a date which suits you, email liz@insightfulminds.co.uk to ask for new dates or to be added to a waiting list
If you love energy and want to know more, you may wish to do your Reiki training too as Liz is a Reiki Master Teacher. Click on this link for more information. Reiki Healing – Online/Global