Top Ten Reasons why you need to be a Visionary in your business
It is really important that you decide when you have a business that you are going to be a serious business owner and not just a hobbyist.  If you are a hobbyist, you won't be putting in so much effort to make your business work and won't make the networking connections you need to grow your business.  The longevity of your business relies on your willingness to grow personally by completing personal development on yourself and putting yourself out there as the leader of your business, regardless of whether you have staff or not.  Your mindset is key.
To grow your business, you need to be a Visionary.  You need to know where you are going and how to get there.  This is a type of roadmap, to help you to achieve your goals and to fulfil your potential.  With no goals and no vision, you won't be able to see the way ahead and therefore you won't be able to achieve what you had hoped from your business which is why many businesses fail.  You can lose hope when you don't have a vision of what to do next or can give up as you are finding the journey too challenging.  Often because you haven't learnt how to network effectively and how to create a business based on collaboration and joint ventures.  Other integral parts are using a vision board as well as having a one page business plan which guides your actions to help you move towards achieving your personal and business goals.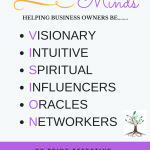 The Top Ten Reasons….
To be an effective leader and to lead your team with your vision and values
For planning purposes, you need to know where you are going
If you don't know where you are going as the business owner, don't expect anyone else who works with you – customers, staff or suppliers to know where you are heading either
To demonstrate your passion for your business, so that customers and your 'tribe' want to follow you
To share what you know and to empower those who need to know what you know
By being focussed as a leader, you will achieve your goals more effectively and to make a bigger impact on the world
To help others to understand how they can contribute and fit with your vision
To inspire and empower the staff in your team to success
To be disciplined and consistent with the way forward for your business to give it stability
To ensure that your business is always innovative and empowered to meet its potential and to keep evolving and moving forward
If you would like to know more about being a Visionary and how to be a leader (even if you are only a sole trader with no team), give me a call for a complimentary discovery session. Email me at liz@insightfulminds.co.uk.  My Awakening the Visionary Within 8 month coaching programme starts on 3rd October on the 1st Tuesday of the month.  http://insightfulminds.co.uk/group-coaching-programme/ The next Vision Board workshop is on 22nd October 2017. http://insightfulminds.co.uk/vision-board-creation-workshop/