Top Ten Ways to Survive Christmas if you are feeling a bit low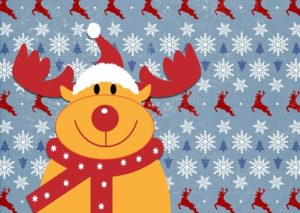 With Christmas approaching, it can be a funny time for many, especially if you have lost people/animals close to you within this festive time in the past.  Just yesterday, I learned that a long term client of mine had lost her battle with cancer and I have to say it hit me very hard as she was also a friend.  Also this week, I will be attending the funeral of my Uncle Fred who was a truly lovely and gentle man.  I feel for my cousins as they only lost their mum three years ago.   If other things are going wrong too in your life – you are single and can't find love, you have just lost your job or you are struggling in debt, it is easy to see how things can spiral out of control very easily.  I've been there myself and it isn't pleasant and I'm not going there again.  I therefore thought I would share my tips for helping you get through any rough times this Christmas.
 Appreciate the now, rather looking back in the past with sadness and/or grief.  Sadly, you can't get a person/animal to reincarnate, but you can accept that they have gone and hold happy memories of them in your heart for good.
Plan things to do over Christmas to keep you occupied rather than wallowing in sadness and self pity.  Who could you help instead?  This year I'm packing baskets of food for the homeless on 23rd December, helping out at the Salvation Army on Christmas day as part of the Christmas lunch and on New Year's day, helping out at the local pram race which raises money for the local charities.
If you are feeling low, get moving – do some exercise.  It doesn't have to be full on running, but get out of the house and get some fresh air.  Getting in touch with nature will help you become more grounded and feel better.
Connect with other people – who can you ring to see that they are ok?  Can you arrange to go out with a friend?  Find someone to share how you are feeling.  If you really don't feel you have any friends, then ring the Samaritians.
Remember to breathe – when waves of negative emotion hit you, and the tears well up, breathe out the negative thoughts and feelings consciously out of your mouth.  Sit quietly, and consciously ask for the emotion to leave you.  Ask yourself what you can learn from the situation and what you are grateful for.
Practice saying 'thank you' much more every day.  Really notice what you can be grateful for.  There are hidden blessings in everything, even bad situations. If you are missing someone, think about what you are grateful for when you did have them in your life and ask yourself what can you learn to change your situation.
Be true to yourself.  It is fine to have a sad day, especially if someone has just died, but be careful not to wallow in it.  Stay active and ask yourself how can you change how you are feeling. Be careful not to watch negative things on the news as this can re-energise the negative feelings you are having.  Get creative.  If you like painting, paint. Make cards, or do something else creative like knitting or sewing.  Refocus how you are feeling into another activity.
Apply Emotional Freedom Technique (tapping) when you have a wave of negative emotion or you are feeling stressed.  You will be amazed how the energy behind the emotion changes and you can start to feel calmer and more focused.  For a video to follow in how to use EFT, go to: https://www.youtube.com/watch?v=tdeIO71XewY&feature=youtu.be
Apply Mindfulness Meditation – notice how you are feeling and work on staying in the moment.  Remember you can change the thoughts in your mind to be more positive if you notice that you are very critical of yourself. Self compassion is key. You may like to try out the Healing Tree Meditation from my book. http://insightfulminds.co.uk/free-resources-for-are-you-worth-it-book/
Connect to something which gives you joy.  This could be doing something you love like bird watching, walking your dog or you might decide to focus on doing some work – writing a book, a poem, etc.  Keep building up joy as an emotion in you. How can you make your life more magical? Focus on creating the future you desire.  What steps do you need to take to make it happen?  Ask the Universe, 'what beautiful thing can you show me today?'.
I wish you all a happy time.  Remember even if you are feeling low, you can consciously change your thoughts to be more positive.  No one else can do this for you.  The saying 'I will be happy when….' doesn't work.  Be happy now, in the moment.  It is a choice.  Your loved one wouldn't want you to be unhappy, so do them the honour of living your life to the full.  Do use the free resources on my website and read my book too as this will help you understand why you are feeling how you are feeling.
Much love to you all and if you do need any help raising your vibration over Christmas so that you feel happier, I am available to see clients over this time as a lot of therapists close down over the festive period.  I have a range of therapies on offer which can help you feel better.  A Reiki/Angelic Reiki session starts at £50 for an hour, or you may book in for a Relax, Vision or Awaken session (Neuro Linguistic Programming, Hypnotherapy, Time Line Therapy, Emotional Freedom Technique, Cognitive Behavioural Therapy).  More information can be found at http://insightfulminds.co.uk/services/personal-coaching-therapy/  Ring me on 07815 904848 or email me at liz@insightfulminds.co.uk if you would like to book a session or to get more information.