Coaching with multi award winning, Liz Almond, The Mindset Shifter, Small Business Mentor, Coach, Therapist & Author of Are you worth it? A Spiritual Guide to Managing Your Money Mindset
Personal Coaching/Therapy
As the Mindset Shifter, I help you 'shift' from being governed and directed by your ego and to help you be 'in service' instead which always feels better and is more energising.  I specialise in helping individuals in becoming happier, healthier and wealthier.  Starting a business or staying in business can be exhausting and can knock your confidence if you don't have the right support.
My clients are often suffering from depression, anxiety/panic attacks, stress, low confidence/self esteem, chronic pain, long term illnesses (strokes, heart issues, ME, Fibromyalgia, etc) as well as anger management and phobia/fear issues.  They often have had 'trauma' in the past or are experiencing it now by going through divorce, separation, kids leaving home, parents going into care, abuse, multiple bereavements or some other significant life event which is negatively impacting their business or their employer's business as they can't focus.
Book for your complimentary 15 minute consultation now by calling Liz on 07815 904848 or emailing liz@insightfulminds.co.uk
Personal Coaching/Therapy is perfect for individuals who are feeling 'stuck' or are 'hiding' ie. not being visible enough due to a lack of confidence. This can often occur in mid life as the menopause or mid life crisis.  A range of symptoms such as anxiety, depression, menopause, chronic illness plus hot sweats, etc can manifest.  Individuals can often be struggling to 'express themselves' and 'to be heard'.  They may have very deep spiritual beliefs and feel misunderstood or they want to learn more about their spiritual path and using spiritual techniques to manifest the life they desire.  Fears which stop you from being visible in your business such as fear of public speaking, fear going on a Facebook Live, fear of driving, fear of flying, fear of technology, are targeted so that they are no longer a problem for you.
I help motivate my clients to move forward in their lives and to be much, much happier. My clients want to lose the feeling of 'self doubt' , 'stress', 'being out of control' and 'being overwhelmed' by having so much work to do within their business.  They often are feeling 'disconnected' and 'like an outsider' and are on a path seeking confidence, to feel more self assured and connected with inner peace. They want to truly believe in themselves and know that they are worth it, by charging their full worth within their business.
Often we can we working on resolving trauma, anger management, building confidence, self esteem and self worth, changing negative habits, dealing with stress and depression, figuring out your life direction, improving communication, teaching anxiety management tools as well as counselling and/or coaching on a whole range of life issues.
The results you can expect are:
Feeling more awakened to who you really are and therefore have more peace of mind
Feeling more connected with life and with creating what you desire in life
Relief of pressure including a release of negative energies such as fear and anxiety which are keeping you burdened
Procrastination and fears disappear.  Self sabotage is no longer necessary
Better and stronger communication within relationships
Clarity and direction towards life purpose and where you are heading
Easier to set goals and to manifest what you desire
Better sleep routine and feeling more energised and rested
As you feel more peaceful, connected and self assured, magic starts to take place and then we can then take on more of a strategic business planning/mentoring role to ensure success and improved profits within your business if appropriate.
Book now without delay:
If you leave these issues to fester, life will only get worse.  It will affect the profits of your business as you will not be focused 100% on your business.  Remember that only 1 in 5 businesses reach the 5 year mark and most die in the first year. Why? Because the business owner does not understand themselves and therefore they invest money in things that they don't need such as branding, web sites, networking subscriptions, courses they don't need, etc and don't invest in themselves.
If you are an employee, if you hate your job, you will find life much tougher and with some help put in front of you a new path.  Understand yourself first and where you are going and you will make the right decisions and make more money, which in turn will help you feel better and you will be able to invest more into your business and your clients who you want to help.  You will navigate the menopause with ease rather than it being overwhelming.
Most people come to see me based on recommendations from clients who have been to see me before or whom have personally met me.  If you found your way here and are naturally a bit skeptical then please give me a call.  If you are interested in working with me or have some questions, I offer a complimentary 15 minute discovery session by phone.   There are a series of packages available to suit your needs including payment plans. See below.  If you want to work with me, but can't afford it, then reading my book and doing the exercise is the first thing to do.  There is also a Manifesting Money e-course which would be a wise investment which will help you too.  http://insightfulminds.co.uk/manifesting-money-e-course/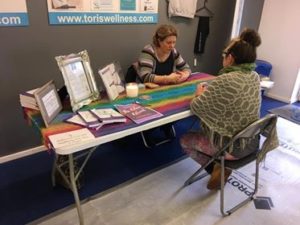 Using tools such as Reiki, Coaching, Hypnotherapy, Time Line Therapy, Neuro Linguistic Programming, Emotional Freedom Technique, Cognitive Behavioural Therapy, Mindfulness Meditation and Tarot, I can identify the blocks you are having and quickly resolve them.
If you want to know if you have any money blocks, then fill in Are you sabotaging the profits in your business checklist and see.
Book for your complimentary 15 minute consultation now by calling Liz on 07815 904848 or emailing liz@insightfulminds.co.uk