If you are exhausted, frustrated and are feeling at a crossroads with your life and then there is help available. Your menopause may be getting the better of you but it's time for you to take control of your health and happiness and to get yourself back to how you want to be. Join in online supporting others going through the same menopause experience or come along to a physical meeting.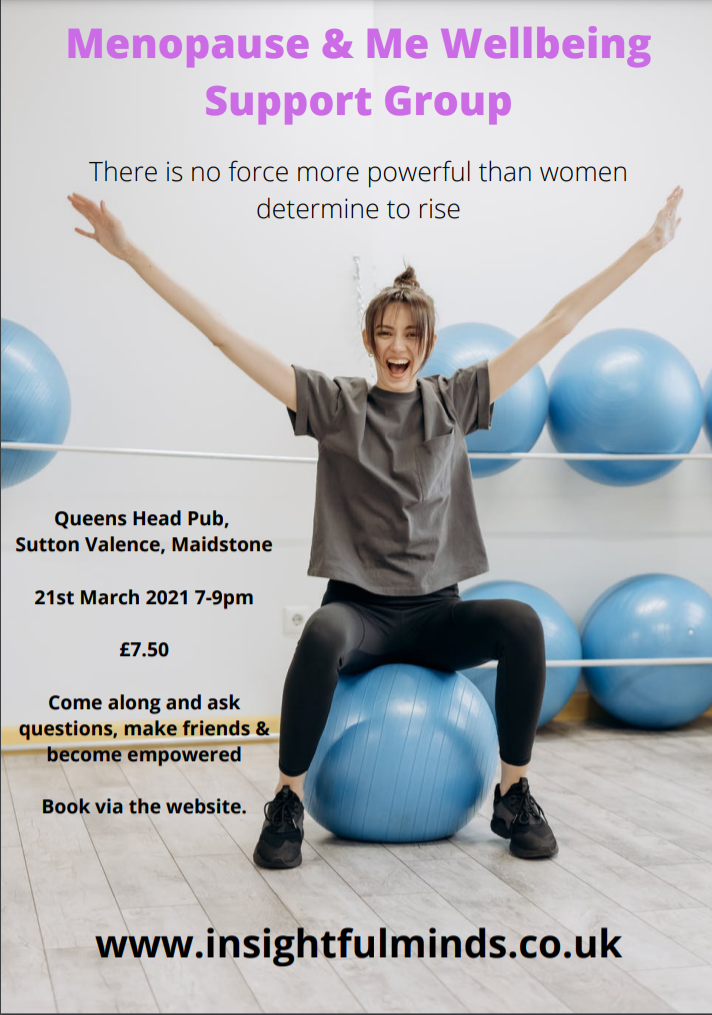 Next physical event – 21st March from 7-9pm at the Queens Head Pub, Sutton Valence, Maidstone.
Join the Facebook Group for additional free support and advice from other people who are struggling to juggle their life as well as the symptoms of menopause and the health issues which come with it. https://www.facebook.com/groups/menopauseandmewellbeingsupportgroup
Who is this service for?
Anyone who is feeling isolated, unhappy and struggling with the menopause symptoms
Someone who has been recently bereaved, been made redundant or has experienced a separation/divorce
Individuals going through empty nesting or who feels like they are unfulfilled and unhappy at the moment
Anyone seeking to learn empowerment methods to help them feel more in control, calm and peaceful to overcome any symptoms which occur for them.
How does the support group work?
Ask your questions at any time online – day or night and you will gain support from other members as it is an international group. In person, come along to make friends, to gain ideas and to become empowered.
Read/Listen to everyone's interactions and offer guidance/support to others as appropriate. You will find that you are not alone!
Benefit from the stress reduction tools shared in the group and if you would like to train in them or to work with me privately to support you to overcome your stress, you can get in touch with me.
For more information or to work with Liz privately, email Liz at liz@insightfulminds.co.uk