Download now the Free Guide of the 7 Steps to Creating a Successful and Profitable Business.  Start to change your behaviour and beliefs to enable yourself to survive the first five years of business rather than becoming one of the four in five businesses which fail.  It is time now to take action and to learn how to design your business for success and longevity.  Your health is your wealth and it is time to start putting the right things in place, so that your health and happiness comes first including your money mindset.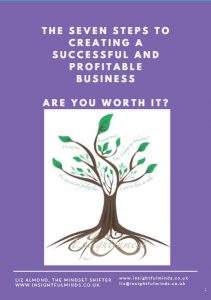 Your business will not be able to grow unless you have the right positive mindset and take the right actions to gain success.  Some sabotage you can sort out yourself, some you can't and you need a professional like myself to help you.  You are worth it and by investing in gaining support now, will make the journey much easier and you will make more money!  Put the 7 steps to creating a successful and profitable business in place and you will have the life that you desire.
If you would like to have a 1-1 complimentary 15 minute discovery call to find out how I can help you with my business mentoring and mindset coaching skills to help you feel good enough and confident with your business, then give me a call on 07815 904848 or email me at liz@insightfulminds.co.uk.
DOWNLOAD HERE:  The seven steps to creating a successful and profitable business guide