Manifesting Profitable Connections – Networking Magically
The Manifesting Profitable Connections – Networking Magically online course is now available.  It is a series of videos and a workbook to help guide you to success and to help you avoid some very costly mistakes.  I share the mistakes I made whilst in business and teach you how to have an effective networking strategy and how to behave and communicate effectively to gain business. Once you buy into the course,  you can watch it as many times as you would like. I've deliberately made it an online course to help those who are looking to get into business or who have child care issues which might stop them from attending a face to face course.

Networking is a fabulous way of gaining support, guidance and business opportunities and I am often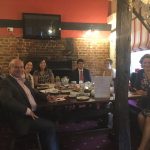 asked which networks do I attend as I am a seasoned networker.  I have to tell you that I wasn't very good at it at the beginning because I was using the wrong techniques and was working from a Scarcity Mindset.  If you would like to know more about positive behaviour when networking you might like to read my book 'Are you worth it? A Spiritual Guide to Managing Your Money Mindset for Business Owners.' Other great reads are: 'The Go Giver' by Bob Burg and David Alan Mann and 'Endless referrals' by Bob Burg. The One Minute Millionaire by Mark Victor Hansen and Robert G Allen.  Networking is all about building relationships, so make sure you find out lots about the people who are attending and help as many people as possible.  Remember is it not about you!
I wasted many years, not knowing what I offered, how to pitch for business effectively (I was confused, so I gave off a confused message!) and I had no strategy.  I now love networking and gain such fantastic opportunities from building relationships with those people I meet.  Some network events are better than others and I love working out what works best for me and for my clients.  There is an awful lot you need to know about behaviour too when going networking, to build long term relationships which really work. Accidentally you can upset someone, give off the wrong message about what you are trying to achieve as well as missing opportunities which are right on the end of your nose!  You can't have a business which you run in isolation. You need to have business buddies and help those around you to succeed as this will gain you more business.
EvoGirls
I host my own network event which is part of the network Evo Girls and it is based at the George Inn, Leeds, Maidstone. We meet for Collaboration and Mastermind on 3rd Thursday of the month between 9.30-12.30pm. We have member and outside speakers as well as the chance to have our businesses as the challenge of the month, to help with getting ideas and support. It costs £20 per month to attend or £30 if you want to pay as you go. The sessions are fun, informal and very supportive.  There are also meetings in Gravesend, Ashford and Tunbridge Wells. To book, go to www.evogirls.co.uk.  Both men and women are welcome to come along.
Therapist Network
This is a network especially for therapists and wellbeing practitioners.  These are day time meetings from 10-12pm in 8 locations in Kent. There is a Facebook group Therapist Network which you may join.  Contact Linda Bishopp at linda.bishopp@hotmail.co.uk.
Abc Networks
This is a not for profit network which has networks throughout Kent.  It costs £14 per session and includes breakfast. Great fun and no joining fee.  To book, go to www.abcnetworks.co.uk
Ladies Who Latte - Mid Kent, Ashford, West Malling, Cranbrook, Tunbridge Wells
Mid Kent -  runs on the 2nd Thursday from 9.30-11.30am at the Innovation Centre, Medway. It costs £3 to attend and you don't need to book. There is usually a speaker slot and then casual networking. www.midkentladieswholatte.co.uk
West Malling - runs on 2nd Tuesday of the month from 10-12pm at the Farmhouse pub in West Malling. Just turn up & buy a drink.
Cranbrook - runs on 3rd Tuesday of the month from 10-12pm at the Queens Head pub in Hawkhurst. Just turn up & buy a drink.
Tunbridge Wells (2 groups) - runs on 1st Tuesday of the month from 10-12pm. Just turn up & buy a drink. Also a Tonbridge group too.
Longfield - runs on 1st Thursday of the month. Just turn up and buy a drink.
Ashford - runs on 3rd Wednesday of the month from 10-12pm at the Blacksmith Arms. Just turn up & buy a drink.
Folkestone - runs on 1st Monday of the month from 10-12pm at the Grand, Folkestone.  Just turn up & buy a drink.
Join the facebook groups to find out if you need to book.
Professional Women in Business
This runs bi-monthly and is run by Emma Williams.  It costs £7.50 to attend.  Join the facebook group to learn when dates are set and to be able to book.
Metis Women
This is a network run for women which encourages business women to support and collaborate to gain success from your business. More information can be found at: www.metiswomen.co.uk
Invicta Chamber of Commerce
This is a business support network in Kent. It has a joining fee and offers a wide range of benefits from becoming a member. www.kentinvictachamber.co.uk.  There are free after hours networking events you can attend.