Channel and Paint Your Own Angel Workshop – 15th May 2019
Venue: The Haybarn, The George Inn, Lower Street, Leeds, Maidstone, Kent, ME17 3AW
Timings: 10.30 – 4.30pm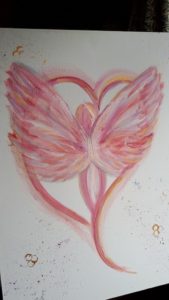 Cost: £80
Book via this link: https://www.eventbrite.co.uk/e/channel-and-paint-your-angel-workshop-tickets-54585234907
Join two multi award winning spiritual teachers Liz Almond and Trisha Wood to channel your own angels onto canvas in glorious watercolour.  Learn about how allowing angels into your life can help you in different ways and then direct your focus to connecting to your angels and channeling what comes to mind onto canvas.  Embrace your inner creativity and practice mindfulness.  Leave the workshop feeling refreshed and energised as well as with two individual watercolour paintings for you to enjoy or to give away.
Enjoy an introduction to angels and their abilities to help you and then spend a couple of hours of relaxing & painting.  We will then stop for lunch, which may be purchased in the pub or you may bring your own packed lunch.  Lunch will be for an hour.  You will have two more hours of painting interlinked with meditation and relaxation after lunch.
Resources: All resources are provided.  Canvases for each person, paints, paint brushes, paper plates, table covers and wet wipes. Just bring yourself.